How to know which adoption method is best for you
Posted on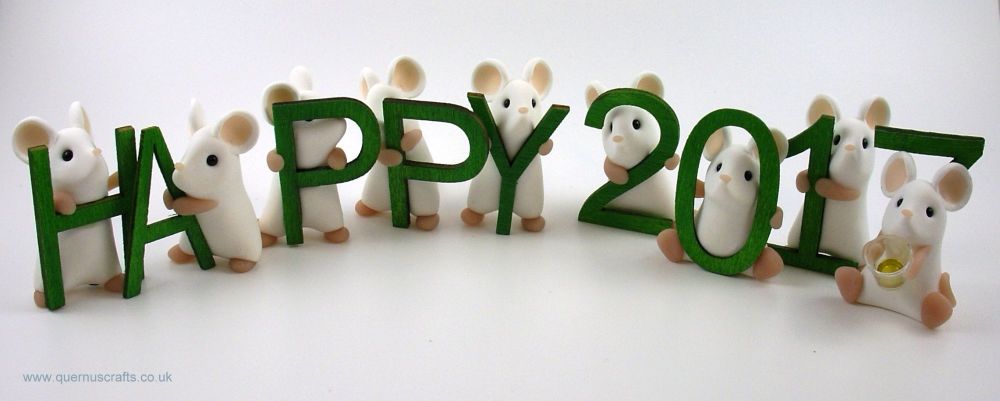 Happy New Year! I hope you have had a lovely relaxing time - I certainly did, and the past few weeks have been spent recharging the batteries, walking Zeus, eating lots of chocolate (well, not just chocolate - just lots of food generally), and then brainstorming about how Quernus will look in 2017, with the help of a most wonderful new wall planner!
I am indebted to all those in the Quernoholics Anonymouse group for the various discussions we've had over the past year about the best ways to adopt the wee creatures. As result of these, I have come up with a few new ways to adopt the wee creatures, and I thought it would help to set out which way would be best for you, depending on how you like to do things. (This was going to be set out like an Agony Aunt column, but then I realised that I probably should concentrate on making wee creatures!)
Best for you if:
You live on Facebook and constantly stalk the Quernus page and the QA group, making sure you get every update as soon as it happens
You don't mind which wee creature you adopt, you just want a wee creature.
You enjoy the adrenalin rush of the rugby scrum at the checkout - "fastest finger wins"
You are an instant gratificationist who wants to receive their wee creature now, if not sooner.
Best for you if:
You're not on Facebook that often, and you haven't quite sussed out how to get all the updates from the Quernus pages and QA group.
You don't have a particular wee creature in mind, but would like to adopt a Quernus creature.
You rely more on the newsletter for updates on what's happening in the Quernus world.
You prefer to complete a transaction at a more sedate pace and in your own time.
You'd like a quick turnaround in welcoming your new addition to the family to your home.
Best for you if:
You live in a different time zone than the UK, and don't enjoy getting up in the middle of the night for specific events.
You like to see lots of wee creatures appearing over the course of a few weeks.
You enjoy browsing through all the available wee creatures, without needing to rush to choose which ones you apply for.
You enjoy the excitement of having a chance to win the right to buy your chosen wee creatures, but wouldn't be too disappointment if you don't.
You want the chance to suggest which wee creatures should appear in each Lottery (QA members can make suggestions in the QA group).
Commission Requests and Events (waiting list)
Best for you if:
You have a particular wee creature in mind that you'd like to adopt.
You don't mind waiting (the waiting list could last days, weeks or months)
You want to take part in a Special Quernus Commission Event (held in a secret Facebook group - they are lots of fun!)
If you can suggest any more criteria for each of the four adoption methods, please let me know!