Quernus has a new online home!
Posted on
Well, the time had to come one of these days! After the move to a new workshop in Rochdale earlier this summer (which you can read about here), I've now launched this brand new website for Quernus, which has everything under one roof - info, shop, blog, events - the whole shebang!
This move has been a long time coming, really - I started my original website as a blog way back in 2009 primarily as a way of charting my creative journey after I gave up my job as a lawyer. Since then, I tweaked the blog to within an inch of its life, I set up lots of social media sites, as well as a separate shop, and I basically used my original blog as a signpost to give people the information they need about all things Quernus. You can still read all the old blogposts from the very beginning of Quernus - it's rather fascinating for me to look back and reflect on the journey I've been on since then! So if you want to look at my old posts, as well as the historical feedback from early commissions, then visit my old blog here.
The first wee creature I ever made was Pigling - and the Quernus wee creatures have come a long way since then! My technique has improved with the making of thousands of wee creatures since then, although the style has stayed remarkably true to itself :) It's good to reflect on the journey I've been on, and the move to this new website is the start of another wonderful chapter!
From humble beginnings....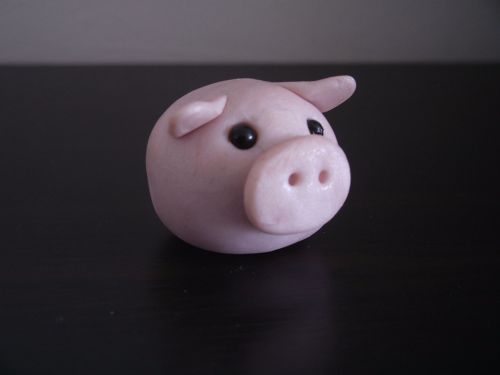 Pigling the First - made 23 July 2009
...to one of the latest wee creatures :)
Little Millefiori Armadillo - made 10 November 2016